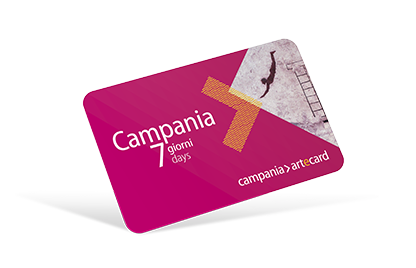 Museums of Naples and Campania in only one pass
Visit the most important museums and cultural sites in Naples and Campania!
5 admissions are included
Enter 5 different sites of your choice from the list below and save up to 50% off your next visits. You can choose between Pompeii, the National Archaeological Museum of Naples, Herculaneum, Royal Palace of Caserta and many others. Check out the full list*!
*Access to Vesuvius is currently not available.
BUY ONLINE
Download Brochure
IMPORTANT: The system may take about 10 minutes to download the pass within the Reserved Area. Therefore, please wait for the proper receipt of your Campania> artecard before making any other transaction.  Starting from Friday 6 August, Green Pass will be required to enter museums. The health certificate proves bearers have either been vaccinated with at least one dose, have recovered from Covid-19 within the past six months, or have tested negative in the previous 48 hours. Reservation is no longer mandatory. It remains necessary only for museums that registered more than one million visitors in 2019. Click here for more info.
Discover the places you can visit with this card
First 5 admissions are free: choose 5 cultural sites to visit from this list
Scavi archeologici vesuviani
Keep visiting and save up to 50% off your next visits
Scavi archeologici vesuviani
Artecard special discount entry ticket
Validity and activation
This pass has a duration of seven days
The card is personal and non-transferable and is activated upon first access to a place in the artecard network culture. Once the entry is validated, the count of the days starts.
DISCOVER ALL PASSES
BUY AT AN ARTECARD POINT
You can buy your pass at any artecard point in Naples or in Campania.