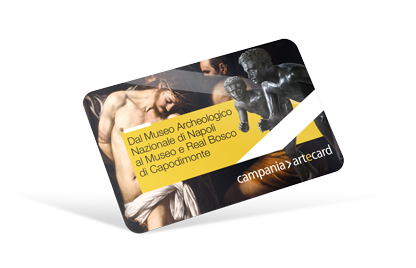 A card which, for two days after being activated, entitles you to exclusive discounts and concessions including: 1 entrance to the Museo Archeologico Nazionale, 1 entrance to the Museo e Real Bosco di Capodimonte, 1 return journey on the ANM bus routes connecting the two museums (bus numbers 168 – 178 – R4 – C63) and a discount for 1 entrance to the Catacombs of San Gennaro (
www.catacombedinapoli.it
) situated along the route.
Buy Artecard
How to use
Campania>artecard will be activated with access to the first selected site or, according to the type of card, with the first use of public transport belonging to Consorzio UnicoCampania, and is valid for 2 days. The card is strictly personal and non-transferable and must be validated at the entrance to each site and shown to members of staff on request.
Where do you buy it?
at the most important museums and archaeological sites of the circuit
online
via call center

Green number 800 600 601
cellular and overseas +39 081 197 37 256
Discover the places you can visit with this card