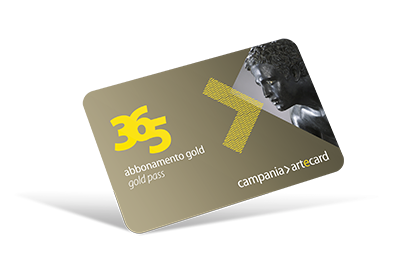 Enjoy Art all year long with campania> artecard! Free entry to >artecard network sites, included in the first list, twice a year with 365 Gold Pass and reduced price ticket to other cultural places.
Check the complete list!
Are you 18-24 years old? Choose 365 Gold Pass Young pass? Choose the pass 365 Gold Young Pass, is activated at the first access, is not transferable and has a validity of one year
Buy Artecard
How to use
campania>artecard will be activated with access to the first selected site and is valid for 365 days. The card is strictly personal and non-transferable and must be validated at the entrance to each site and shown to members of staff on request.
The young person's card must be shown together with a document providing proof of identity and can be used by citizens aged 18-24 in accordance with the regulations concerning access to museums and archeological sites of the Italian state.
Where do you buy it?
at the most important museums and archaeological sites of the circuit
online
via call center

Green number 800 600 601
cellular and overseas +39 081 197 37 256
Download the guide to know all the places you can visit with >artecard 365
DOWNLOAD THE GUIDE
Discover the places you can visit with this card
Free entry to all this cultural sites twice a year
Keep visiting and save up to 50% off your next visits